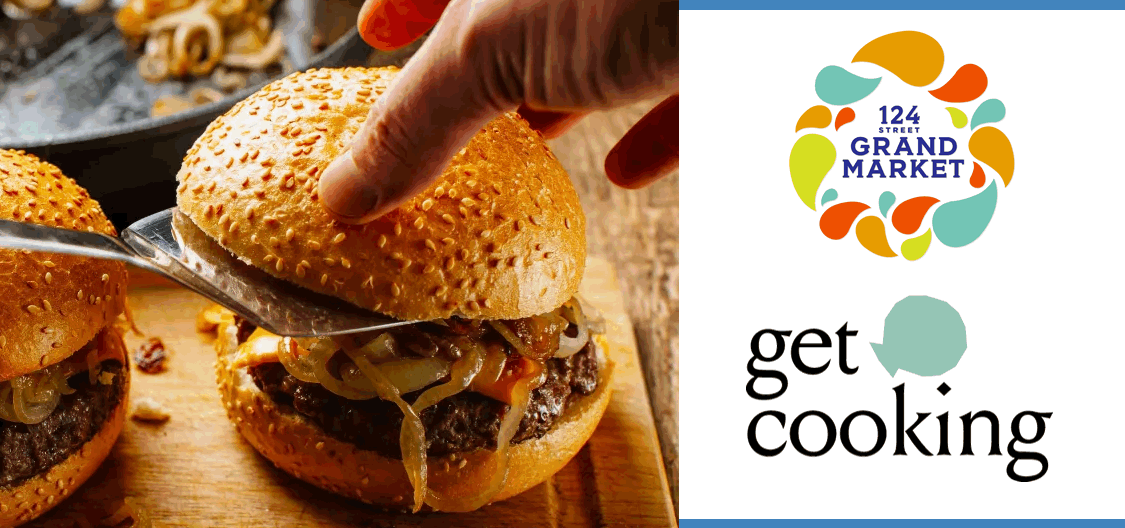 Get Cooking and 124 Street Grand Market Series by The McDougall House Association
Event Date: Sunday July 10th, 2022
Registration Deadline: Noon on July 6th, 2022
Join us online at 4:30 pm on Sunday, July 10, 2022!  We're going outside and making burgers and rustling up a scrumptious batch of rhubarb ketchup with Kathryn Joel of Get Cooking.  You can choose between either bison or beef for your burger.
For this event, we are excited to be working with the folks at the 124th Street Grand Market and some of the fabulous vendors offering local produce there.  Your ingredient package will include items from:
Depending on the day you want to pick up your package of market ingredients, it will be available at one of the following locations:
On Thursday (July7), at the 108 Avenue and 124th Street location, between 4pm & 8pm
On Saturday (July 9), at the Manchester location (12016 – 107 Avenue, Edmonton) between 11am & 3pm
On Sunday (July 10), at the 102 Avenue and 124th Street location, between 11am & 3pm
Registration fee ($55) includes the cost of ingredients and, of course, the delightful and informative instruction of Kathryn Joel.
The recipes are for four (4) people. 
Get ready to prepare a delicious barb-b-que meal and hone your culinary skills with a professional.
Registration for this event closes noon on July 6th, 2022
McDougall House
For more than 50 years, McDougall House has provided compassion and support for women struggling to find their way to recovery. A female only, abstinence-based recovery house, our programs are designed to meet the needs of the women we serve.
By joining this online class, you will be helping the women at McDougall House to live their lives without addiction.